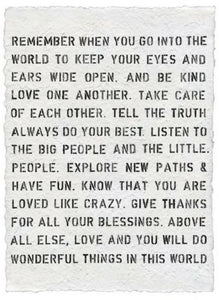 Gorgeous handmade paper prints. They also look beautiful framed and hung anywhere in your home. Each print is made of creamy off white handmade paper with a deckled edge, printed in black in.
Quote: "Remember when you go into the world to keep your eyes and ears wide open. And be kind love one another. Take care of each other. Tell the truth. Always do your best. Listen to the big people and the little people. Explore new paths and have fun. Know that you are loved like crazy. Give thanks for all your blessings. Above all else love and you will do wonderful things in this world."
Dimensions: 12" x 16"