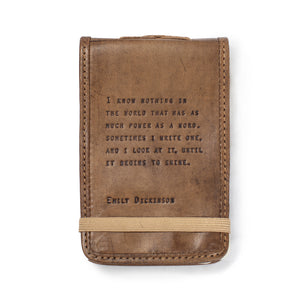 These leather journals make great gifts! Each one has unlined paper inside and has an elastic band on the bottom to keep everything in place.
Due to the natural hide of the leather, natural markings are to be expected. Keeping the imperfections make the leather fibers stronger and more durable.
I know nothing in the world that has as much power as a word. Sometimes I write one, and look at it, until it begins to shine. - Emily Dickinson 
Dimensions: 4"x 6"