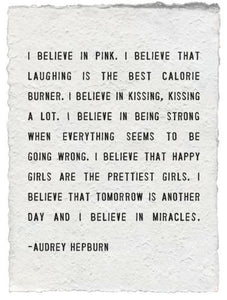 Gorgeous handmade paper prints. They also look beautiful framed and hung anywhere in your home. Each print is made of creamy off white handmade paper with a deckled edge, printed in black in.
Quote: "I believe in pink. I believe that laughing is the best calorie burner. I believe in kissing, kissing a lot. I believe in being strong wen everything seems to be going wrong. I believe that happy girls are the prettiest girls. I believe that tomorrow is another day and I believe in miracles. -Audrey Hepburn"
Dimensions: 12" x 16"