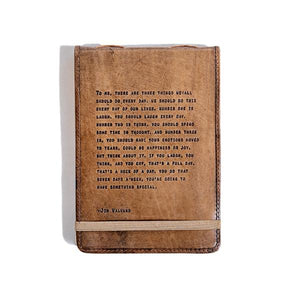 These leather journals make great gifts! Each one has unlined paper inside and has an elastic band on the bottom to keep everything in place.
Due to the natural hide of the leather, natural markings are to be expected. Keeping the imperfections make the leather fibers stronger and more durable.
"Keep a notebook.  Travel with it.  Eat with it.  Sleep with it.  Slap into it every stray thought that flutters up in your brain.  Cheap paper is less perishable than gray matter, and lead pencil markings endure longer than memory."
Dimensions: 7" x 9.75"