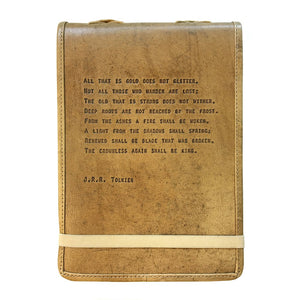 These leather journals make great gifts! Each one has unlined paper inside and has an elastic band on the bottom to keep everything in place.
Due to the natural hide of the leather, natural markings are to be expected. Keeping the imperfections make the leather fibers stronger and more durable.
Takes 4 weeks for order. 
"All that is gold does not glitter. Not all those who wander are lost; The old that is strong does not wither. Deep roots are not reached by the frost. From the ashes a fire shall be woken. A light from the shadows shall spring. Renewed shall be blade that was broken. The crownless again shall be king" - J.R.R. Tolkien
Dimensions: 7" x 9.75"