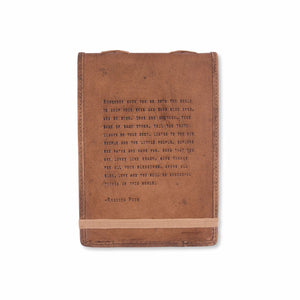 These leather journals make great gifts! Each one has unlined paper inside and has an elastic band on the bottom to keep everything in place.
Due to the natural hide of the leather, natural markings are to be expected. Keeping the imperfections make the leather fibers stronger and more durable.
"Remember  when you go into the world to keep your eyes and ears open and be kind.  Love one another.  Take care of each other.  Tell the truth.  Always do your best.  Listen to the big people and the little people.  Explore new paths and have fun.  Know that you are loved like crazy.  Give thanks for all of your blessings.  Above all else, love and you will do wonderful things in this world." -Rebecca Puig
Dimensions: 7" x 9.75"